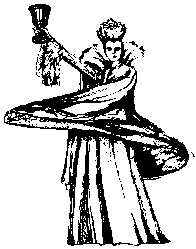 Heroic Harlotry borne of Adulterous Adoration (Supplanting Holiness)
A tiny speck of dust in the eye of man's perception, overlooked the little bit of leaven, that allowed a measure of error, which gave birth to total apostasy...
Speaking through the Apostle John in His Letters to the Seven Churches, Jesus Christ Himself testified against the Churches -against our ways and our doings, saying: "I know thy works and the last to be more than the first, nevertheless I have this against thee...
Since Jesus is for us and not against us, we know that whatsoever things He testifies against us are for our good and not for evil, for a future and a hope. We know also (cf. 1John 1:9) that His burden is easy and His yoke is light -and so, even when He testifies against us (against our ways and our doings) it is because He desires to give us rest for our souls. And it is not a difficult thing that He requires of us, even in His testimony against us. All that He requires of us is "our agreement with Him" in whatsoever things it pleases Him to bring to Light, -so that by His grace, He might grant us repentance and restore us unto Himself, in Spirit and in Truth.
Grant me the indulgence for the sake of clarity and for demonstration of those same good purposes of God in Christ, to draw a parallel from the word of God (in His Letters to the Churches) concerning His testimony against us (the churches in these Last days.) Rather than despising the things you are about to read (or casting them out as judgmental on my part) I entreat you, even implore you to go to Him concerning all these things. Meanwhile, like the woman at the well, I can only testify of what I have seen and heard of Him -and invite you to "come and see a Man, who told me all things ever I did..."
He knows our works and our charity...and our last days works are more than the first...nevertheless, He has these things against us:
The first two things on the hearts of God's people are usually first (1) to learn how we can best serve God in ministry; and the second is similar, (2) to learn the best way to "live our own lives for Jesus."
Both of these goals seem right in our sight. Both are born out of a fervent godly desire to please God, born even of the desire of our hearts to serve God (in human terms) -out of the desire, even a zeal to live "our lives" uprightly for Jesus.
What we do not realize however is how both of these things have been used of the enemy to actually turn the churches away from the very purposes of God which are "in Christ" (and Him alone) and are used by Satan to turn us toward those things which be "of man" and not of God.(continued on next page...)